Bill here, back for the next instalment of wacky television history. In 1999 daytime television was dominated with conflict based talk shows in the ilk of Jerry Springer that looked to tear down and expose in the name of entertainment. Perhaps the public was ready for a change...ready for positivity...ready for their dreams to come true....ready for a bouncy, bubbly genie in the form of Richard Simmons' Dream Maker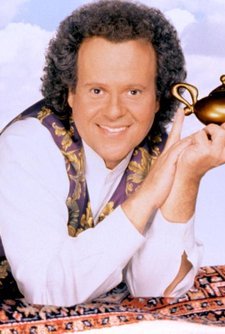 Launched in daytime syndication across North America in September of 1999, it was ultimately shut
down less than four months later due to dismal ratings and harrowing reviews.
Normally I'd add a disclaimer that this is my memory of the show without looking it up, directing the reader to the web to find out more, but in this case, there is very little info out there! In fact most traces of this show are seemingly erased from the internet as if no one wants to admit it even existed! I'll add a few clips, but they don't give a full picture. So I'll try to describe this show...
If you had a tough life, or was a good person who needed a break and deserved a wish to come true, Richard Simmons would grant it for you on Dream Maker. Viewers were encouraged to write into the show with their story and what dreams they wished for. Some would be invited on the show for a 'screening', only to be surprised by Richard and have their wishes granted on the program. Sounds nice enough, so what went wrong? It went off the rails as soon as Richard Simmons steps on stage, as you could well imagine. Now I'll say I'm a fan of Mr Simmons, but more of the outrageous character that appeared on Howard Stern or Letterman and took all the jokes and pokes at his personality while dodging questions of his sexuality. In Dream Maker, gone are the satin short shorts and carnival setting. Now Richard is in pants, shirt and a genie vest and has to host an entire show on his own. And he is now Serious Richard. He works in the audience, which are fenced in by gold lattice all over, while reading out people's dreams. From a leather bound binder he reads out someone's letter and he discovers them in the audience. And Serious Richard can't hold in anymore. Mostly he is shouting at everybody in excitement, unless it is a sad story he's read. Then he is full tears and blatting uncontrollably as he talks to his guests. In fact, most of the hour Richard is crying more than his tough luck guest. I am not kidding...He cried in practically every episode. When we finally get to the wish part of the segment, we find out that the show had no budget because the wishes granted were very underwhelming. In this clip, the wish granted is to meet Randolf Mantooth from Emergency! (soon to be added to the Wacky Shows I've Been Paid To Watch blog)
Or here, where he brings out The Moffatts! The Moffatts! How could they afford that!
Probably the best summary of this show was best done by the crew at MadTV at the time. They perfectly nailed all the wacky aspects of this short lived daytime show. Definitely check this out:
Do you remember this show? Did you spend a full hour with Richard Simmons every day while holding on tightly to your Deal A Meal cards? Were you brought to tears by all the dreams being given? Let us know in the comments or join in the conversation on Twitter, follow us at @STCPod